"I want you to get excited about who you are, what you are, what you have, and what can still be for you. I want to inspire you to see that you can go far beyond where you are right now."
~Virginia Satir
There is a reason coaching has become the number one personal growth and development technology of the 21
st
Century:  It is both a
Science
and an
Art
, and
it works!
Look into any leading organizations, businesses, health, wealth and sports programs around the world and you will find coaching happening.
It is a technology unlike any other skill-based process such as therapy, consulting or mentoring.
Following are some of the most Frequently Asked Questions about Coaching that we hear often in our practice:
What is Coaching?

Coaching is an empowered working alliance that honors the client as the expert in his or her life. At the heart of coaching is the assertion that you are already naturally creative, resourceful, and whole. You don't have to be fixed to solve your problems or achieve your dreams.
Coaching is a provocative partnership designed to maximize your personal and professional potential.
Coaching with the Danger, Sex and Magic Principles and Insights is specifically intended to empower you to learn new skills and tools, which you can apply in any life situation.
What is the Coach's role?
A coach's job covers a wide range of responsibilities. Again, we suggest you read The New Client Guidebook for more depth.
Here is a summary:
To discover what has Heart and Meaning for you, and to clarify and align it with what you want to achieve;
To engage in empowered conversation that encourages self-discovery and self-awareness.
To elicit solutions and strategies generated by you.
To hold you responsible and accountable to your goals and personal/professionsal fulfillment.

How do Coaching and Therapy differ?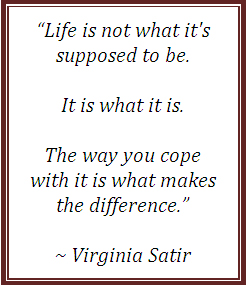 Coaching is based on the premise of empowerment, discovery and authentic self-expression.
Coaching is about moving from the present into the future with clarity, accuracy, and velocity. It is suited for those who are working through a set of circumstances knowing that they are capable, yet willing to ask for help.
Therapy has more to do with issue resolution, psychological recovery, and healing.
Therapy, in its classical form, is about looking at the past, healing old wounds that influence the present, and moving forward.  Therapy is designed to treat diagnosable conditions and as such is best suited for those who suffer from medical or behavioral dysfunction.
Many modern therapists now use coaching modalities in their practice, though they may not be trained in coach-specific skills.
Coaches do not claim to do therapy although it is well known that coaching is "therapeutic" and contribute greatly to a sense of well-being.
Are Coaching sessions in person?

Typically, individual coaching is held via telephone and scheduled as 3 weekly, 30-45, minute sessions. It is often said, "coaching happens between the calls", which means you will implement strategies, action plans and personal, self-awareness inquiry in your every day encounters.
What does Coaching cost?
Fees range widely for individual coaching and affordability is, of course, a very personal matter. Often, participating in a group-coaching format can be very effective and beneficial. Groups often have a learning focus that members are interested in sharing together.
Your coach will have specific criteria, such as a 24-hour cancellation notice, but these also vary widely and may be negotiated to fit your situation.
What's different about DSM Coaching?
 Coaching is like a very powerful software tool we use to deliver the Danger, Sex and Magic operating system!
DSM is an approach we have created from our life study of personal development. Our careers have been steeped in a wide range of modalities ranging from how we achieve goals to how we grow spiritually.
DSM coaching has its own unique philosophy, language and adaptability. We invite you to explore more about DSM Coaching on this site.
How do I know if Coaching is an ideal match for me now?
We have a two-part answer for that. First, if you are at this site and have read this far, you have already demonstrated the curiosity and open-mindedness to explore further.
Second, please take the 5-minute How Coachable Are You? Self-Test. If you find that you are ready for coaching, read The New Client Guide to Professional Coaching to get your search for a coach off on the right foot.